It's time for the next challenge in my organizing. I attempted the 21 day cleaning challenge and was doing awesome but then we moved so everything at the moment has a home and is pretty organized so I'm moving on to the next challenge of organizing my life :) I'm super excited about these weekly challenges and hope I can keep up because I love being organized and used to be pretty good at it before I had two kids and a family to take care of! A mothers job it never done so here we go...... I hope you'll try too!
I do better with deadlines so these challenges really help motivate me!
if you'd like to follow along, join in and link up her you go: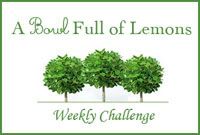 Weekly Challenge #1 is a Home Management Binder
I will get started on this soon and share later in the week :) The Bowl Full of Lemons blog has some great resources for printable (some free) so check it out even if you can't join in each week!