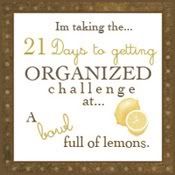 Day 6 - dresser drawers
Today I'm cheating a little! Earlier in the week I cleaned out the kids closet and dresser. So I'm going to count that. It's my son's third b-day and I won't have time to tackle my dressers today!
My Hubby and I's room is the most neglected in the house. I'll be the first to admit we have way more clothes and shoes than needed and a tiny house with little storage space. I've never been a skinny girl but a healthy girl. After college I did Weight Watchers with my mom and got really skinny. I was a size 4-6 when we got married and after having two kids back to back, I gained all my weight back and then some, growing through maternity clothes and not losing baby weight. I'm having a hard time parting with clothes that I should have been able to get back into. I got rid of a lot of skinny clothes this summer in a garage sale because I know I won't be getting into them anytime soon. I want to lose weight but I know I can't do it alone. All that to say I'm not ready to tackle getting rid of clothes that don't fit because honestly I don't fit into much I own and I refuse to buy new clothes because I should lose weight to fit into the clothes I have. I did buy some large storage tubs so I plan on packing up some clothes to put away for now and that might help. We'll come back to this! - Honestly I'm embarrassed to even share a photo. If anyone has advice or encouragement! This would be the project I need help with since it's more of an emotional one than just an organizational one.
My room and things in it will have to wait for another day that I can tackle it with my hubby.