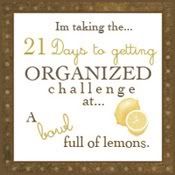 Day 7 - The Pantry
I don't have an actual pantry but when we had organize a cabinet in the kitchen last week I'd already organized it these two cabinets as well. I still want to get some containers to store my baking supplies.
I don't have before pics because I did this on a whim so here is what it looks like now!
Since this is done I think I might make an attempt to put away the Christmas decor today!