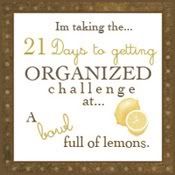 Day 4- Linen Closet
Todays challenge wasn't too bad.
Here is what I started with. I really high cabinet and 4 drawers. (we'll save the drawers for another day)
Here is a closer look of the mess! Let just say I have no organization going on in there....LOL!
It's a place for linens, games and puzzles. When my hubby and I first got married we loved doing puzzles together but with little fingers around they don't get done! I'm sure it'll be fun when they get older. :)
I took everything and I mean everything! I cleaned and dusted out the closet which needed to be done! (Ah- ah-choo-- I'm still sneezing)
I moved the kiddos linens into their closet (which I cleaned the other day anyway) ! Got rid of some older items. I have several special crochet items in here! 3 crochet Blankets from my
grandmother
who passed away a few years ago. a couple of Crochet Blankets from my mother and some I did myself!
The games and puzzle are all now on one shelf and look - look there is room for more in there!
This project didn't take long! Maybe 20-30 minutes! - aside from trying to get the kiddos out of the way. They thought it was a game when I was throwing all the blankets on the floor. Hope I'm inspiring you to clean up and organize too!